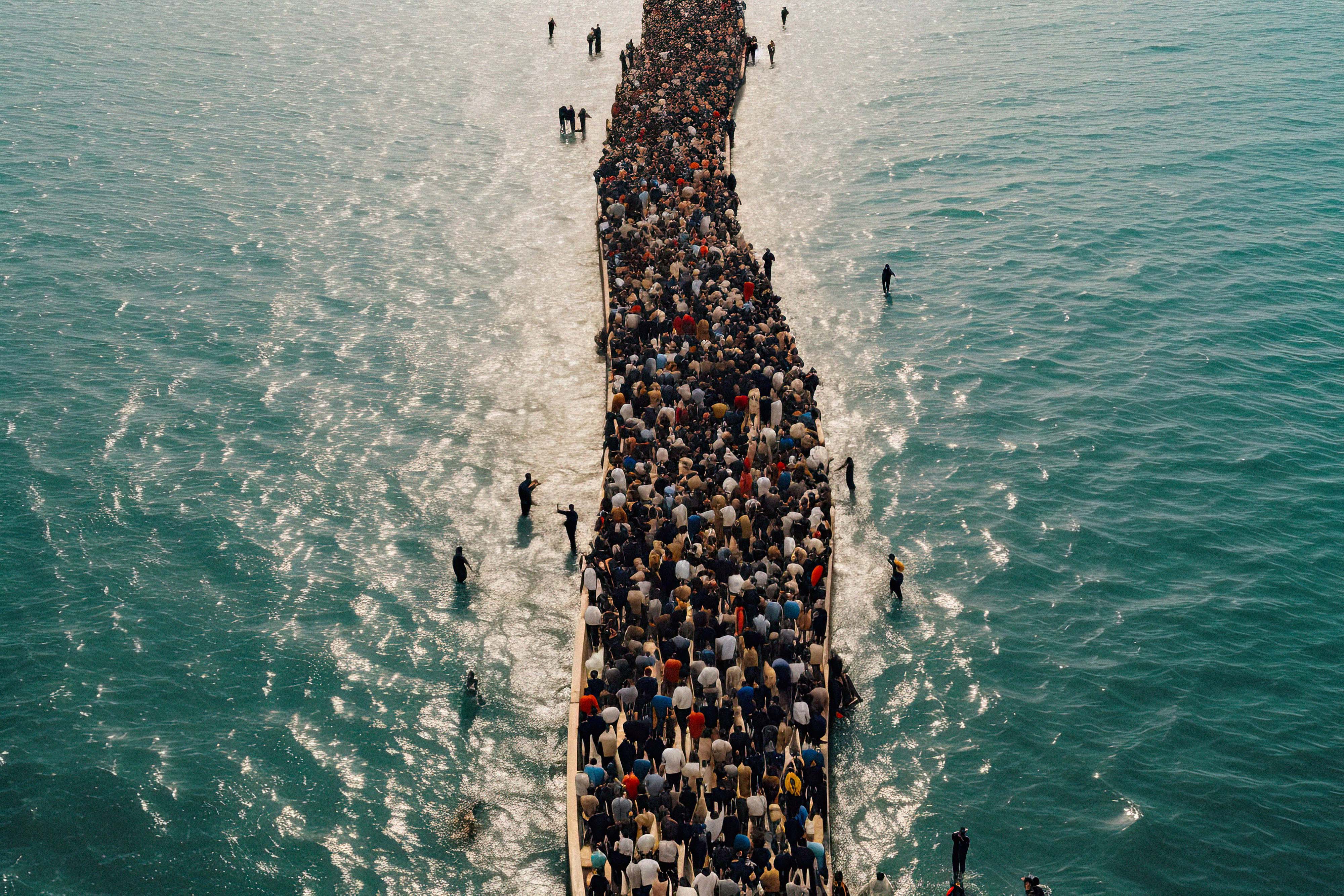 I wanted to provide a unique visual commentary on the contemporary human condition while using humans themselves as analogies for the relentless surge of data that spreads everywhere.

Alkan Avcıoğlu
Plutonium F. speaks to Alkan Avcıoğlu
Plutonium Fitzgerald: Can you tell us about your background and how you got started in creating art?
Alkan Avcıoğlu: I am a polymath deeply involved with art. I obtained a master's degree in Film Studies and a PhD in Communication Sciences. I worked as a film critic and a DJ, and my life has always been connected to art in one way or another. I have spent most of my life reading and studying art theory. On the opposite side of theory, I am a relentless maker and experimenter who never stops creating.
I have created digital paintings, composed electronic ambient songs, written short stories, and directed short movies. I have dabbled in a little bit of everything. I rarely release what I create. I consider myself an outsider artist. I first started creating digital paintings in 1999, and continued producing thousands of works over the course of ten years. Then I took a break for a decade until I became involved with NFTs and AI tools.
PLUTONIUM F.: What got you interested in creating art with AI tools? How has AI evolved your artistic process?
AVCIOĞLU: The sheer ability to create in large numbers got me interested. I believe in the power of creation in huge quantities. Concepts emerge naturally with the power of repetition. AI tools excite me like nothing before.
My artistic vision focuses on quantity rather than quality. I think the art world has been dominated by an ego-centric approach for centuries, where the focus is always on the creator/artist and their ability to manipulate the creation. Concepts like perfectionism, virtuosity, and fine aesthetics have been at the center of attention and the chain of value in art culture. Popular culture and the dynamics of art criticism have praised a certain type of creator while dismissing others. However, things have started to change with the post-modern and post-structuralist art movements. Digital and AI art are a continuation of this shift.
One of my idols, the experimental Chilean filmmaker Raúl Ruiz, once stated in an interview: "We forget that the image exists by itself. The quantity of information that the image carries — against the will of whoever is trying to organize it — is enormous." Like Ruiz, I believe the role of the creator and the artist is overrated and overhyped. In Western art culture, we continue to view the image as passive; as something that a creator should control the meaning of, manipulate with style and editing. I believe the potential information that an image carries is much greater than the artist's intentions or craft skills. Images are like organisms carrying the dynamic energies of ideas, which are not limited to the consciousness or intent of the artist.
For me, AI art is set to transform the entire paradigm of the Image. The act of looking, the nature of artistic creation itself, and the art theories that examine the birth of meaning in an artwork are all set to radically change. The current mainstream art culture is obsessed with the artist's intention and the meaning in an artwork. However, I believe that in the long-term, with the help of AI tools, we will move towards an understanding that focuses more on collective creativity. This perspective will emphasize the set of concepts and the sum of art movements together, as well as the meaning that arises in a grand context.
The overload of images and artworks we are going to see has the potential to reset all the established notions and contexts we associate with art. The power of curation and conceptual collections in large numbers will rise. In this context, my artistic process with AI is based on countless iterations and a focus on giving space for the image to exist on its own.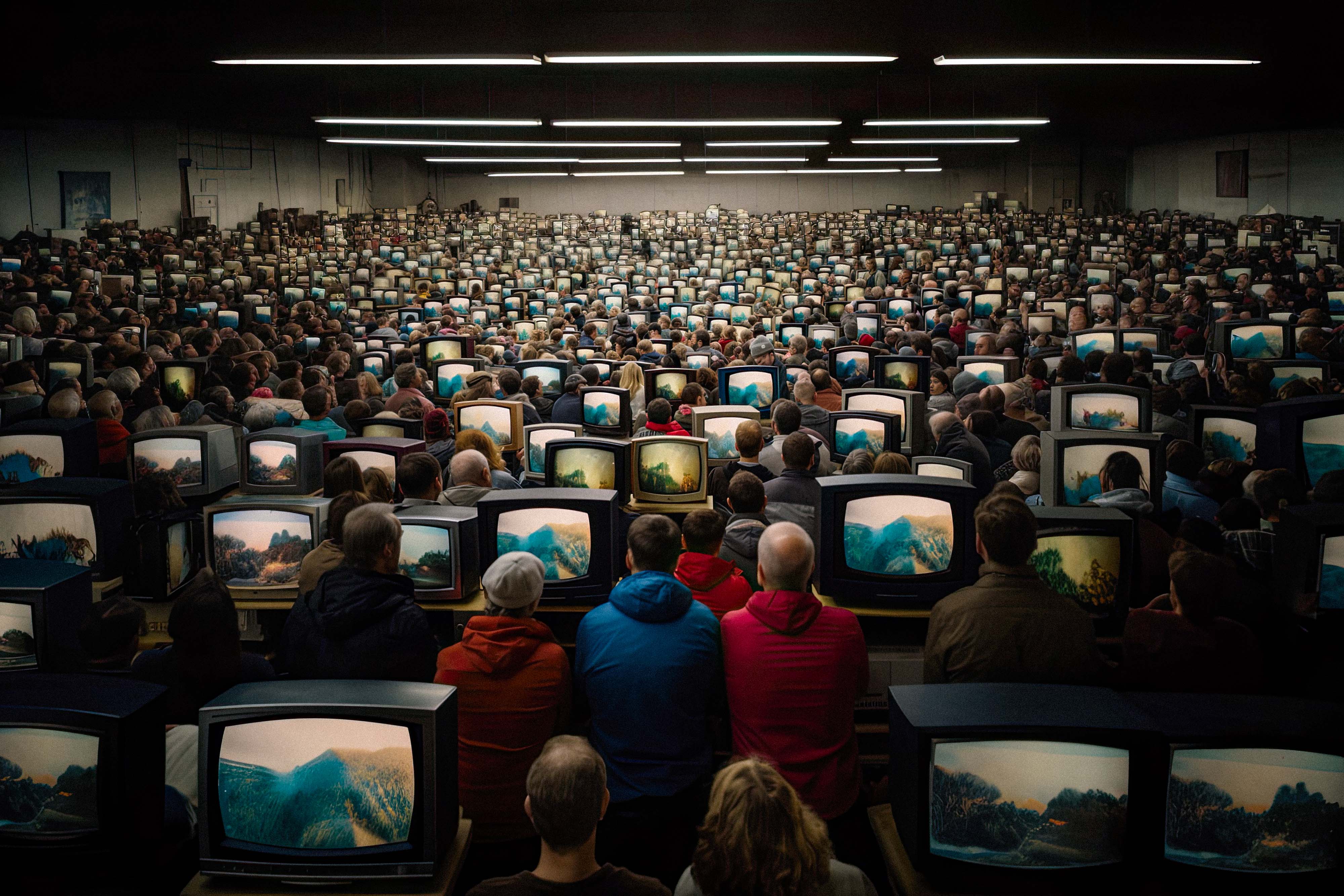 I have created digital paintings, composed electronic ambient songs, written short stories, and directed short movies. I have dabbled in a little bit of everything. I rarely release what I create. I consider myself an outsider artist.

Alkan Avcıoğlu
PLUTONIUM F.: What inspires you as an artist?
AVCIOĞLU: Art, lots of art, especially bad art and bad taste. I like B-movies and kitsch.
I enjoy non-stop, long hours of experimentation and creating images in large volumes, during which moments of epiphanies and inspirations can occur. For me, creation is a journey into an unknown perspective - a vast potential to discover new languages and forms of expression which continually inspire and motivate throughout the voyage..
My biggest inspirations are Henry Darger, Madge Gill, Seijun Suzuki, and Raúl Ruiz, who created voluminous bodies of work.
PLUTONIUM F.: You are a part of a group show titled "Post Photographic Perspectives II — Acceptable Realities." Can you discuss how your work fits into this collection?
AVCIOĞLU: Like all the collections in the group show, my work seeks a new way of looking, a different perception of reality. This exhibition is a perfect opportunity to push boundaries in visual language.
I believe that post-photography combined with AI is becoming a metaphorical, interpretive art form; one in which the images are no longer mere representations of the observed world, but rather symbolic reflections of complex societal and existential themes.
Lastly, the dialogue between the viewer and the artwork in "Overpopulated Symphonies" mirrors the relationship between humans and AI. Just as the viewer attempts to make sense of the overcrowded scenes, humans are constantly striving to find meaning and manage the onslaught of data in their everyday lives. So, I wanted my work to embody the very essence of the post-photographic era: A reality shaped and interpreted through the lens of AI while constantly getting lost in the grand scale.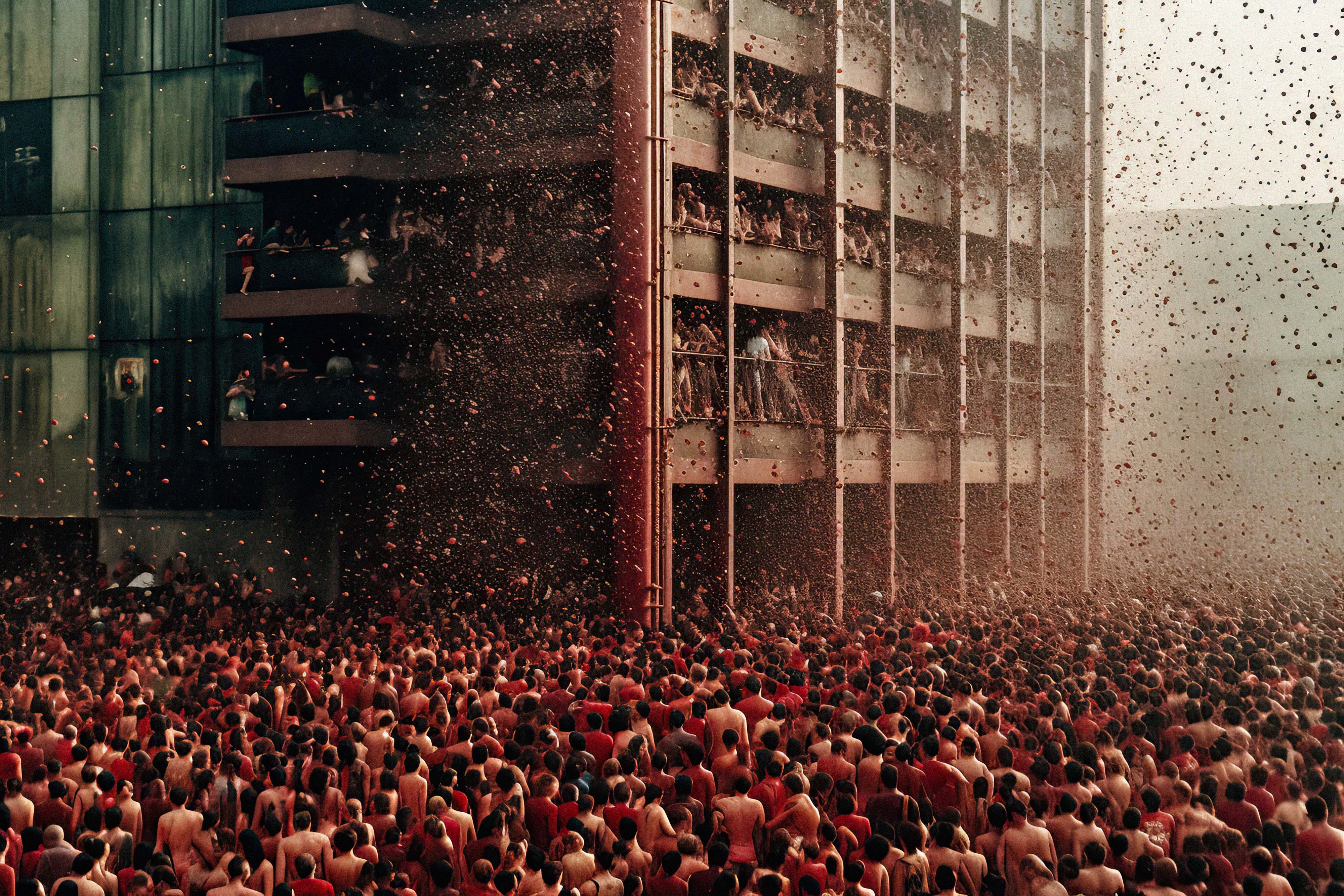 PLUTONIUM F.: Tell us more about the project. How did you come up with the name and your creative process for this project?
AVCIOĞLU: Like most creative journeys, mine was multi-layered too, combining different inspirations from sources like Ron Fricke movies to Andreas Gursky, from Edward Burtynsky to Martin Parr, from Pieter Bruegel to Hieronymus Bosch. It started as an experimental attempt to synthesize a chaotic vision on a grand scale. I wanted the figures in the images to appear so small that they were indistinguishable from dots and blobs, like dots in a non-linear neural network that is out of order. From the start, I had the idea of the crowd becoming a visual allegory for information overload. I wanted to provide a unique visual commentary on the contemporary human condition while using humans themselves as analogies for the relentless surge of data that spreads everywhere.
The title "Overpopulated Symphonies" is intended to evoke the complex and often overwhelming nature of our current existence. "Overpopulated" alludes to the physical density of human gatherings depicted in the collection, but also metaphorically to the overflow of information and ideas that bombard us daily.
The term "Symphonies" suggests a sense of harmony and order, presenting an optimistic counterpoint to the chaos. It hints at synchronicity that can emerge from seeming disarray.
PLUTONIUM F.: What are your thoughts on the intersection of photography and AI technology?
AVCIOĞLU:Theoretically, AI-assisted photo editing has been a part of photography for a while, and it will undoubtedly improve and enrich craftsmanship.
However, I believe the more revolutionary aspect comes from the fusion of AI technology with AI art and the post-photographic journey. In this context, the intersection of photography and AI technology is not simply a new avenue in the art world; it represents a radical disruption of traditional artistic paradigms.
In his concept of "hyperreality," Baudrillard argues that in our postmodern society, copies or simulations can become more "real" than the original. Similarly, post-photographic AI images can be more real than the original representations of the world. These images have the potential to capture the subconscious truth in new and innovative ways. Therefore, the intersection of photography and AI will provide new means of storytelling, offering a fresh perspective.
The artist's gaze transforms from the traditionally singular, subjective viewpoint into a collaborative, intersubjective experience with the machine. Just as Marcel Duchamp's readymades brought about a groundbreaking shift, the disruption of photographic traditions by AI technology will challenge the definition of authorship and reshape our perception of art.
Images are like organisms carrying the dynamic energies of ideas, which are not limited to the consciousness or intent of the artist.

Alkan Avcıoğlu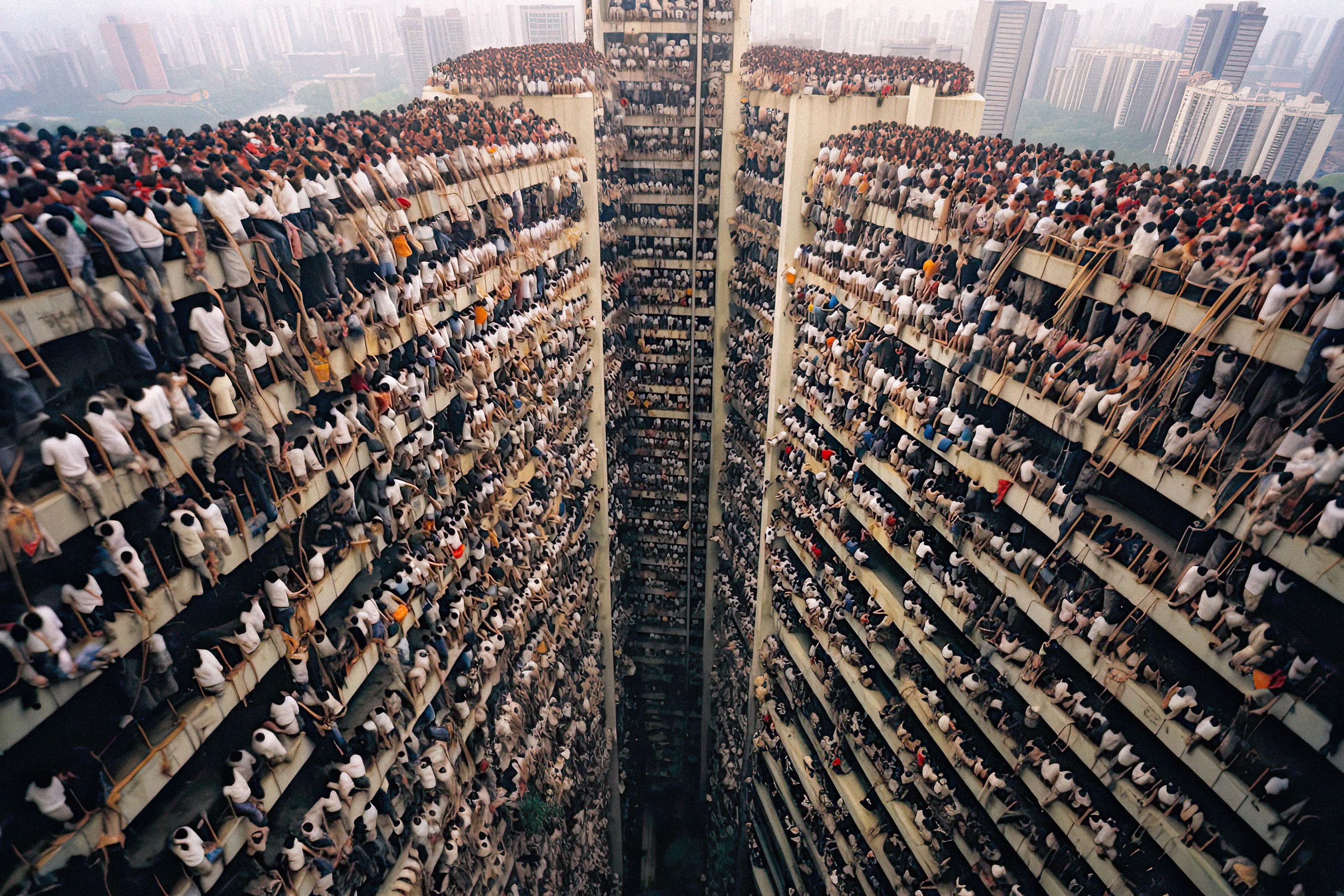 PLUTONIUM F.: Anything you would like to share with people skeptical about AI tools for creativity?
AVCIOĞLU: Skepticism towards new movements or mediums in art history is natural. However, I believe the artist has no role in this discussion. The artist is not obligated to convince or convert skeptics, nor to engage in rebuttals. Attempting to convince the masses would lead to a false prophecy, limiting the artist's imagination, creativity, and veering away from the original path of discovery, free from preconceptions.
It seems absurd to me that artists feel the need to defend AI tools or develop counter-arguments against critics. Taking such a path would result in artists developing complexes and fixations that imprison them with limitations. For instance, many AI artists feel compelled to prove that: - AI demands skill and effort (in response to the criticism that AI art requires no skill) - AI art possesses a soul and is beautiful (in response to the criticism that AI art lacks soul) - AI art carries a message and displays originality (in response to the criticism that AI art is theft, etc.)
I believe that attempting to defend these points restricts the artist's imagination and indirectly serves as a form of gatekeeping. I do not believe that art should be constrained by requirements such as skill, beauty, soul, or originality. I consider these concepts overrated in art, and it would be beneficial for them to be disrupted and subverted.
Developing complexes in response to criticism or backlash blinds the artist. Therefore, I believe the artist should have no role in cultural wars. AI games, AI movies, and all forms of AI creativity will inevitably face similar backlash. The creator should maintain their vision, push boundaries, and avoid engaging in unproductive discussions that are inherently limited in nature. And as we all know, in the long-term, none of these discussions will endure, as AI tools become more commonly accepted.
PLUTONIUM F.: Thank you so much for taking the time to speak with us. What is the best way for people to follow you and learn more about you and your work?
AVCIOĞLU: Twitter is the best way.