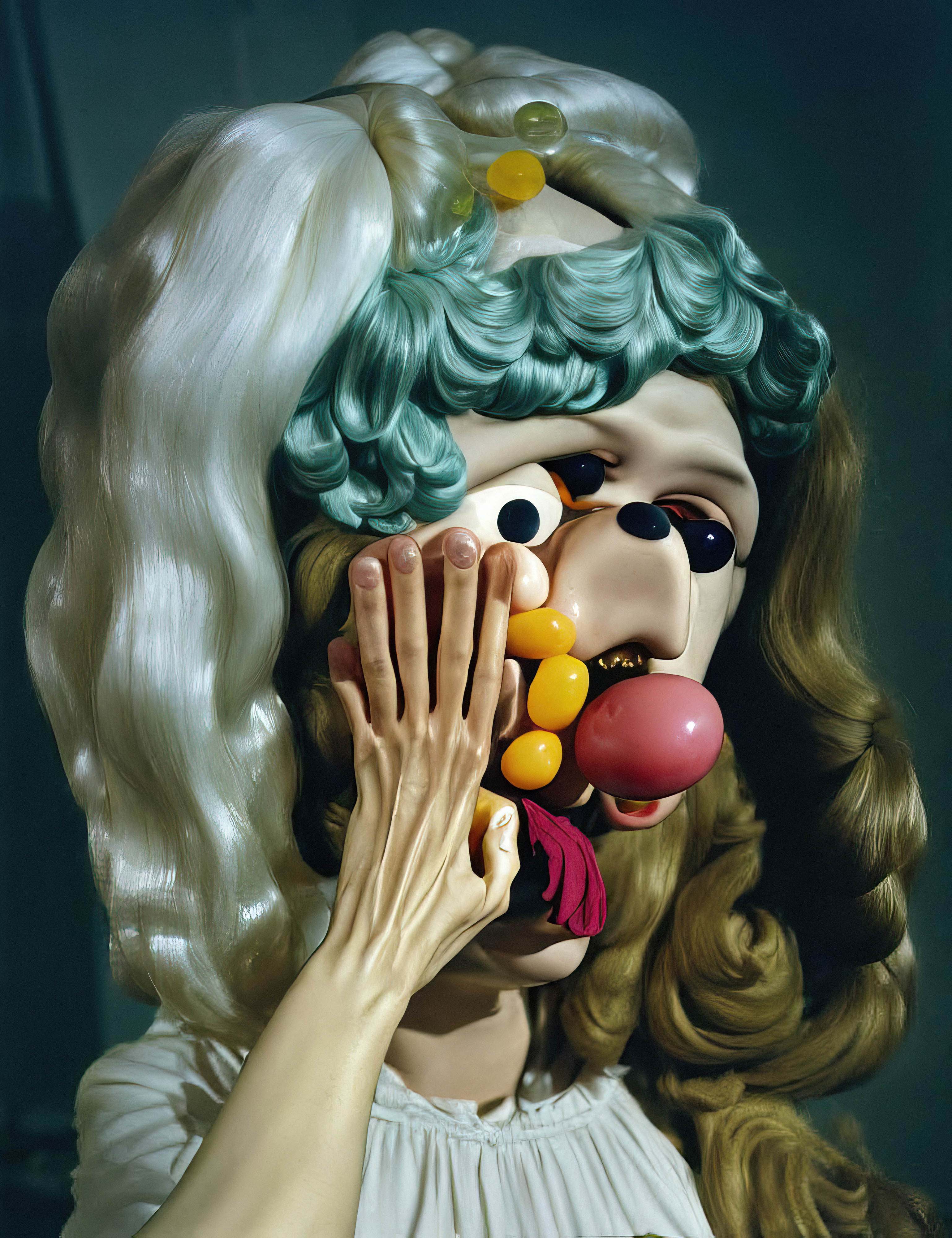 It's the quietest corners of existence and repression, the echoes of what's left unsaid. That's where my inspiration thrives.

Beth Frey
Plutonium F. speaks to Beth Frey
Plutonium Fitzgerald: Can you tell us about your background and how you got started in creating art?
Beth Frey: I would say that I've been making art for as long as I can remember. It became more formal when I went to art school (I got my BFA from the University of Victoria and MFA from Concordia in Montreal). My background is primarily in painting and drawing, although I've also experimented with sculpture and performance in the past. In recent years, I began using free and affordable apps on my phone to combine watercolor with my body to create weird video art. My early experiments with AI image generation felt like a natural extension of that process.
PLUTONIUM F.: What got you interested in creating art with AI tools? How has AI evolved your artistic process?
FREY: I started off with early AI generators (VQGAN+CLIP, or NightCafe's "artistic" mode). I was fascinated by the results as a painter; how the machine was able to create images that balanced the figurative and the abstract in a way that I often strove for as an artist. For me, the imperfections of the AI were what drew me in. When I first tried DALL-E last summer, I didn't like it at first because it was too perfect. But once I found ways to use it to my advantage, in the creation of a series of absurdist film stills, I was hooked. "Sentient Muppet Factory" was birthed out of this experience.
I watched a talk last year by Laurie Anderson, who used the puppet as an analogy for new technologies, and I liked to imagine those images were part of some late 1970s variety show. I'm currently exploring more AI tools and am challenged by what they mean to me as a studio artist. I've made a number of watercolors based on AI-generated images, and I've also found ways to incorporate my body into the practice. As somebody who comes from a studio background, I was beginning to miss the process in my work. I've recently begun posing for photos with odd props and costumes and feeding those images into the AI so that I feel that my body is in the generated image to some degree.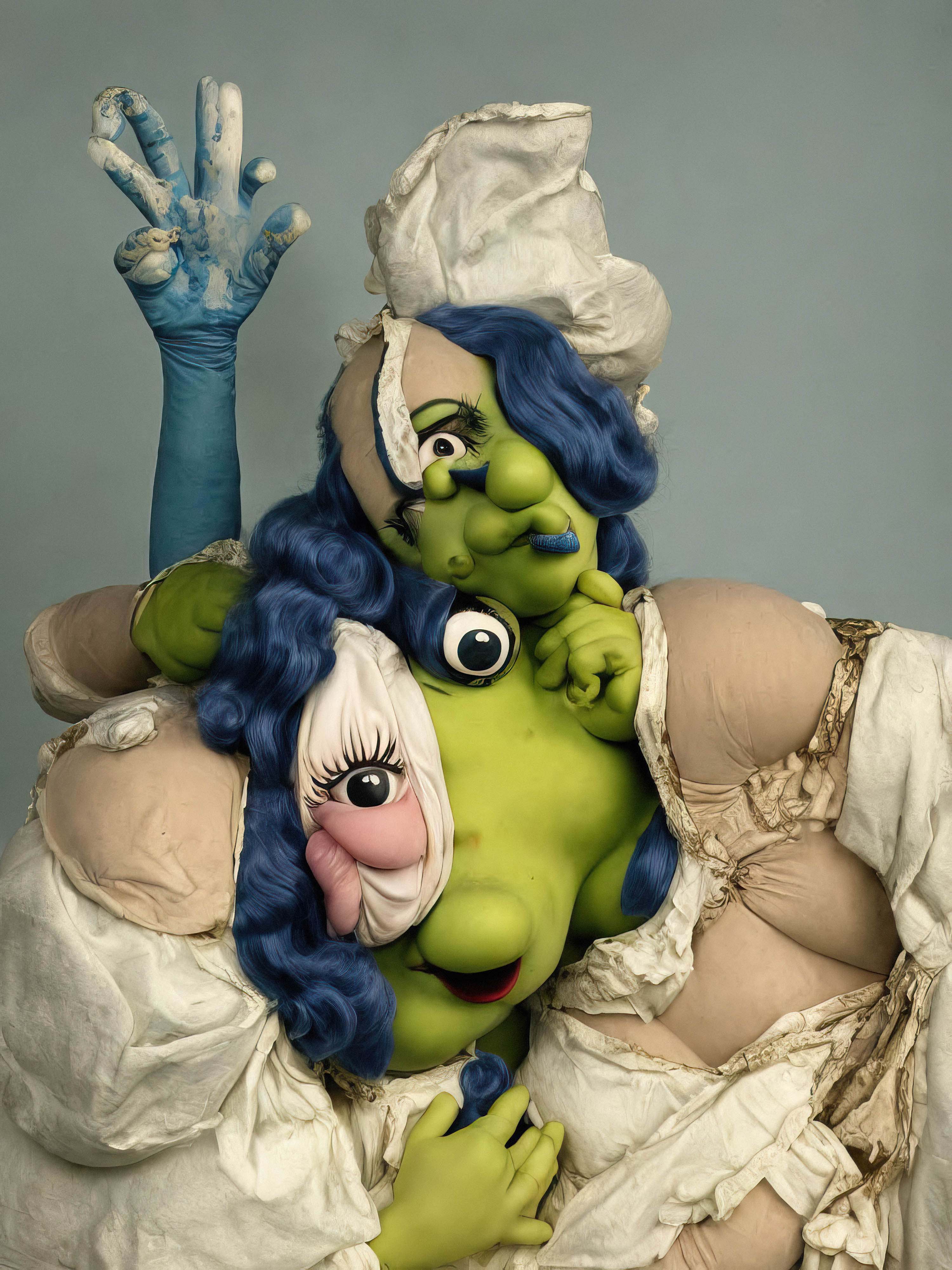 I've tried a couple of text-to-image tools and instantly fell in love with the technology. I realized that I can find my own peculiar voice.

Beth Frey
PLUTONIUM F.: What inspires you as an artist?
FREY: I love contrasts. I want to create something that is visually enticing but then also makes viewers think twice after they spend more time with it - An image that is attractive and repulsive at the same time. Humor is always a part of my work as well. I'm inspired by imperfections, and I think that's what makes us unique as individuals. With AI, I'm searching out the imperfections or glitches because the moment it's too good or too perfect, it becomes less interesting to me.
PLUTONIUM F.: You are a part of a group show titled "Post Photographic Perspectives II — Acceptable Realities." Can you discuss how your work fits into this collection?
FREY: Before I started working with AI, I was always interested in the question of how I "become" a painting or work of art (and not necessarily be represented in a painting). The work in this collection explores the cross-section of photography and the history of painting, with a dose of humor and pop-cultural references. A lot of these pieces also play with the idea of femininity and the Baroque and use conventionally feminine symbols or codes in a way that is grotesque and disturbing. Bodies morph into different shapes, and a number of decorative elements add texture to the images, but not in a way that I would consider "well-behaved." I consider the characters I create to challenge what it is to be an acceptable body, and as a result, they inhabit a world that is their own, which I think is both utopian and dystopian at once.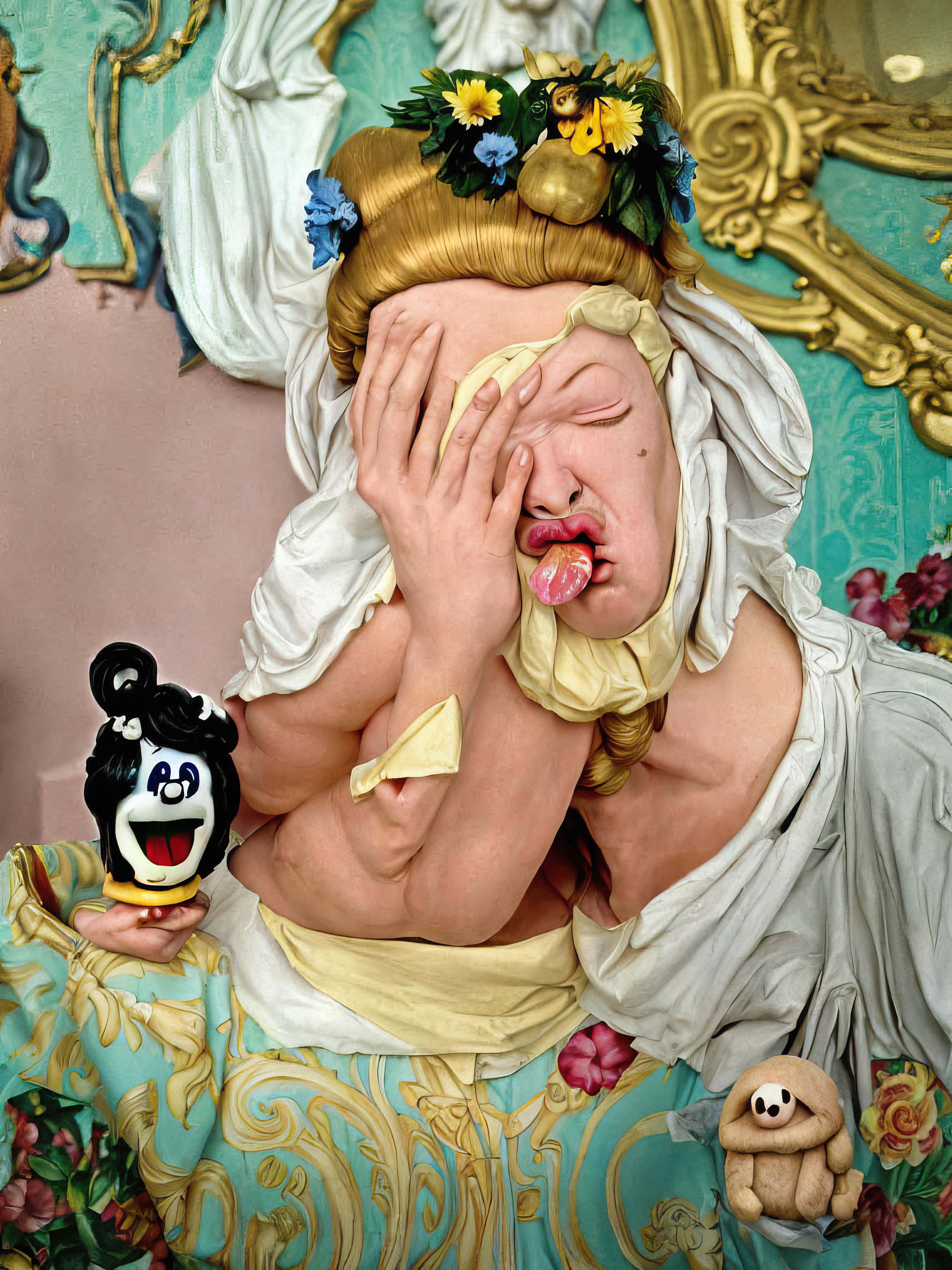 PLUTONIUM F.: Tell us more about the project. How did you come up with the name and your creative process for this project?
FREY: "Sentient Muppet Factory" came to mind on a whim when I was setting up a new Instagram account for my own work. I wanted something humorous with a tongue-in-cheek reference to AI discourse - of course, these muppets aren't sentient! I think the "factory" bit refers to the mode of production, with AI enabling me to churn out new characters in a mechanical way.
This recent series expands on that concept and incorporates the initial Muppet variety show theme into the history of painting. It serves as a way to connect my "primary" art practice to the AI practice. All of these pieces were generated from a bank of images on my computer, most of which were the early NightCafe works, along with a few photos of me in my studio. Using source imagery that was disparate from the text prompt produced an unsettling result, as I aimed to confuse the AI into following the prompts in unconventional ways.
PLUTONIUM F.: What are your thoughts on the intersection of photography and AI technology?
FREY: I find AI to be an exciting tool to apply to the photographic process, and it's interesting to observe how it mimics photography. However, there is potential for abuse of these capabilities if certain bad actors become involved. That's why it's important for artists to embrace this technology. I've noticed a lot of AI art out there attempting to create highly aestheticized works, and that worries me given what social media filters are already doing to self-representation. I hope that AI artists can challenge these beauty standards and embrace the possibilities that weirdness and imperfection offer.
I have a passion for the surrealist movement, and the more I dig into the history of surrealism, the more I want to create art.

Beth Frey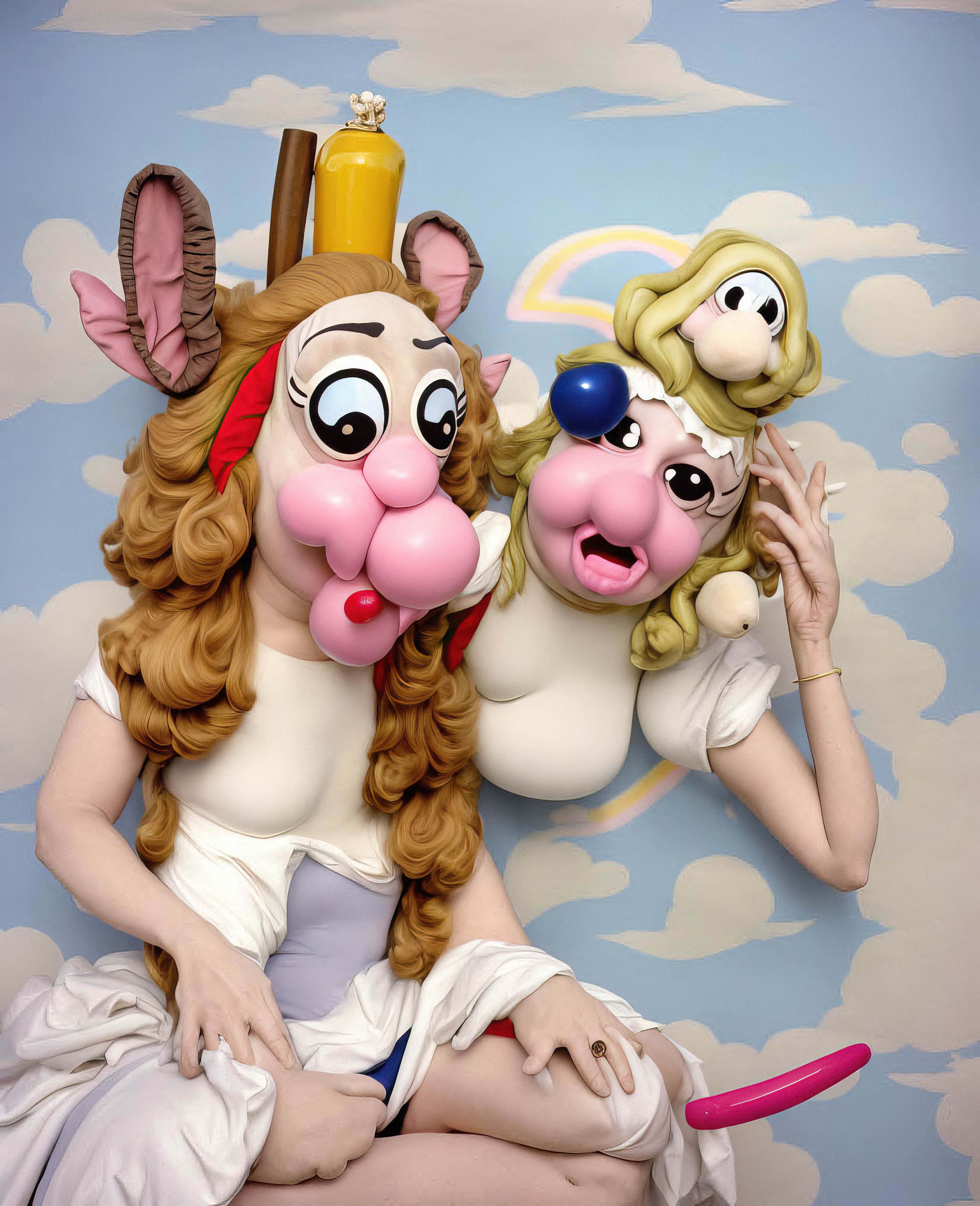 PLUTONIUM F.: Anything you would like to share with people skeptical about AI tools for creativity?
FREY: I believe I addressed some of these concerns earlier. I like to approach many of these issues from an art historical perspective. When photography was born, some claimed it would be the death of painting. Instead, painting evolved to become more focused on its own medium (and later incorporated photography in innovative ways). I would like to see a similar development with AI and analogue/process-based work. There are many exciting areas where these two can intersect.
PLUTONIUM F.: Thank you so much for taking the time to speak with us. What is the best way for people to follow you and learn more about you and your work?
FREY: I primarily operate on Instagram. My non-AI art practice (although they often intertwine) can be found at @bethisms.