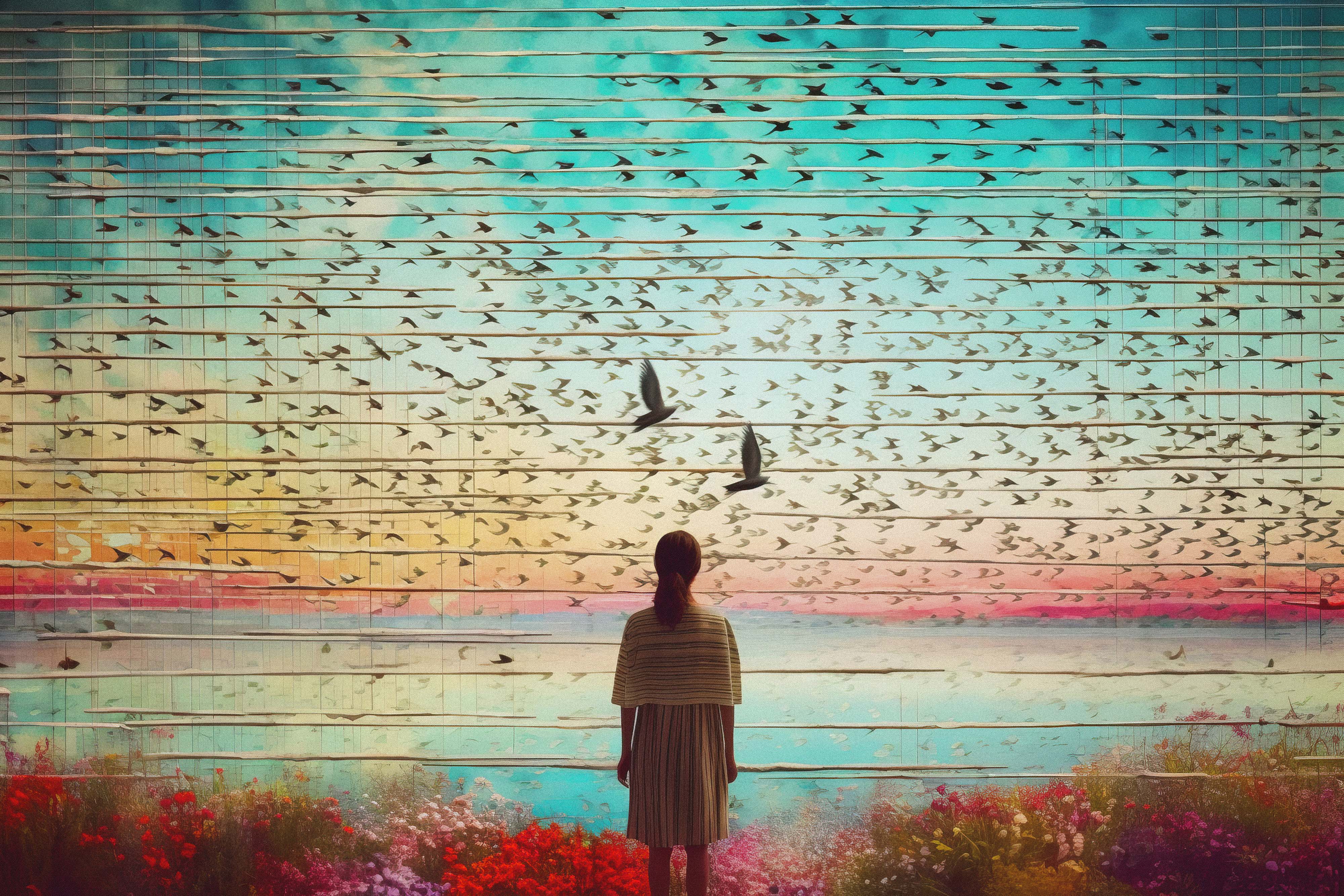 The search for meaning is a constant pursuit for me. I find significance in symbols, memories, dreams, and archetypes.

Felipe Posada
Plutonium F. speaks to Felipe Posada
Plutonium Fitzgerald: Can you tell us about your background and how you got started in creating art?
Felipe Posada: I've had a lifelong relationship with art, starting from a young age with a passion for illustration, sculpture, music, and other various forms of creative expression. However, I temporarily veered off my artistic path to pursue engineering school, which I now see as a blessing in disguise. This period of disconnection sparked a desire for change, leading me to leave my comfort zone and seek new horizons in a different country.
Through a combination of fortunate events, I discovered the world of digital art and, with determination and persistence, secured a place in a Computer Art Master's program at the Savannah College of Art and Design in 2002. The experience was both terrifying and exhilarating, as I had to self-learn all the necessary tools, applications, and techniques to complete graduate-level projects. Despite skepticism from others, I excelled in my classes, received scholarships, and earned awards for my work.
In 2004, as my time in school came to an end, I embarked on a cross-country journey to Los Angeles to deliver my motion design demo reel to various studios in hopes of starting my professional career in design and animation. I worked as a designer and animator for several boutique studios, pitching concepts and ideas through digital montages.
Eventually, I had a breakthrough opportunity to participate in a major Microsoft campaign with Stardust Studios, securing a more permanent position there. I later became an art director and was offered the opportunity to relocate to NYC to continue working on design pitches and projects involving both design, animation, and sometimes live action for renowned clients like MTV, Nike, HBO, Nissan, and Microsoft.
In 2007, after numerous creative battles and sleepless nights, I decided to venture into independence and establish my own company. This allowed me to work on both freelance studio projects and my own clients, assuming roles such as Senior Art Director, freelance Design Director, and eventually Creative Director. Although it was an intense decade, with a shift towards more technically-driven projects, I yearned for a deeper connection to my artistic self. In 2015, armed with a diverse set of creative tools and techniques, I began producing art in a disciplined and personal manner.
This marked the birth of my ongoing project, "The Invisible Realm" (TIR), which grew from one to over two hundred original pieces in just three years. Most of my artwork consists of digital collage compositions, incorporating vintage scanned materials like old advertisements, postcards, and scenes from past eras. I also incorporate CGI, original photography, and video when appropriate. Additionally, I enjoy printing and hand-embellishing select artworks, which I exhibit in galleries and sell limited editions globally.
While my focus on gallery exhibitions and limited editions kept me occupied, I initially missed out on the first wave of web3/NFT onboarding. However, I am now catching up and have recently embraced AI as a new tool and collaborator in my artistic process.
PLUTONIUM F.: What got you interested in creating art with AI tools? How has AI evolved your artistic process?
POSADA: I have a natural interest in exploring various techniques and technologies for art creation, including photography, video, traditional illustration, digital image manipulation, digital collage, and CGI. However, these techniques are only effective when there is a solid concept and intent behind them. AI, in my view, is just another tool that provides even more range and freedom for artistic exploration.
When working with image manipulation, especially collage, artists are limited by their source image repositories. It requires creativity to find the right imagery, whether it's from old encyclopedias, vintage magazines, or digital image banks. Communicating with AI is a similar process, but with the added benefit of generating new images endlessly. Similarly, when directing a shoot, whether for video or photography, photographers and directors rely on finite resources such as location, wardrobe, lighting, talent, budget, and production timeline.
With AI, there are no limitations, allowing artists to dive deeper into ideas without constraints. Drawing from my experience as a designer and director, I can use those skills to specify and delegate with the same level of detail as in a real-life production.
I'll leave off here by saying that AI has provided me with the necessary resources to create a larger volume of work and explore different narratives with freedom and curiosity. I contribute my ideas to the AI, which generates new possibilities, enabling me to expand my artistic endeavors.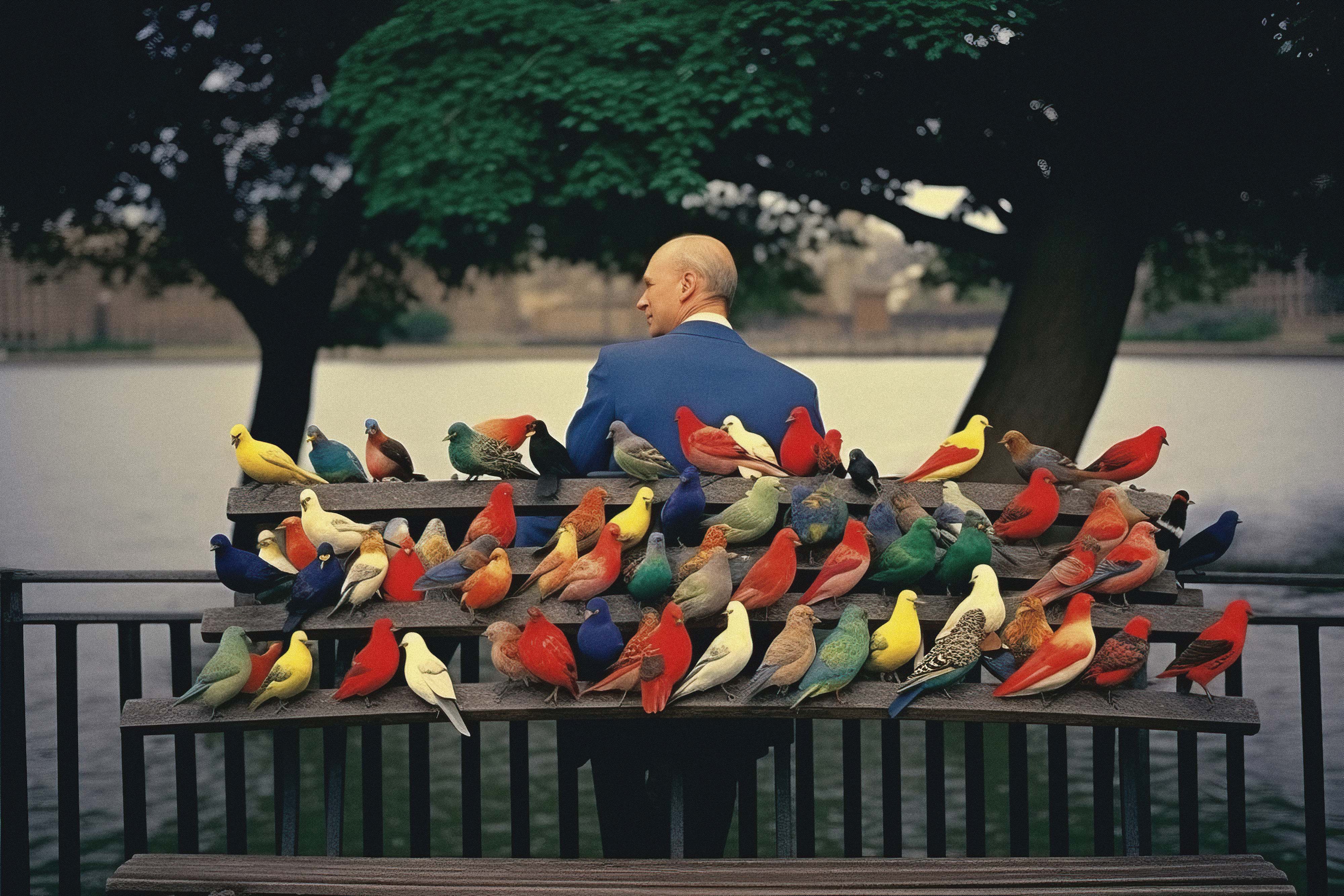 It requires creativity to find the right imagery, whether it's from old encyclopedias, vintage magazines, or digital image banks. Communicating with AI is a similar process, but with the added benefit of generating new images endlessly.

Felipe Posada
PLUTONIUM F.: What inspires you as an artist?
POSADA: As an artist, my inspiration stems from three main factors: my surroundings, the search for meaning, and the quest to connect the universe with the human soul.
Regarding my surroundings, reflecting on my past series reveals the impact of different environments on my work. Whether capturing the despair of urban life or the serenity found in proximity to mountains, my surroundings play a key role in my creative process. The search for meaning is a constant pursuit for me. I find significance in symbols, memories, dreams, and archetypes. While my spiritual path is difficult to categorize, it aligns closely with anthroposophy, and my work consistently incorporates elements of metaphysics and quantum mechanics.
These aspects tie into my endless quest, which is deeply intertwined with anthroposophy. Through it, I have discovered the freedom to explore the connections between the vastness of the external universe and the depths of our internal worlds.
PLUTONIUM F.: You are a part of a group show titled "Post Photographic Perspectives II — Acceptable Realities." Can you discuss how your work fits into this collection?
POSADA: I think my work fits perfectly into this collection as a study and personal interpretation of an alternate take on what our senses perceive as reality.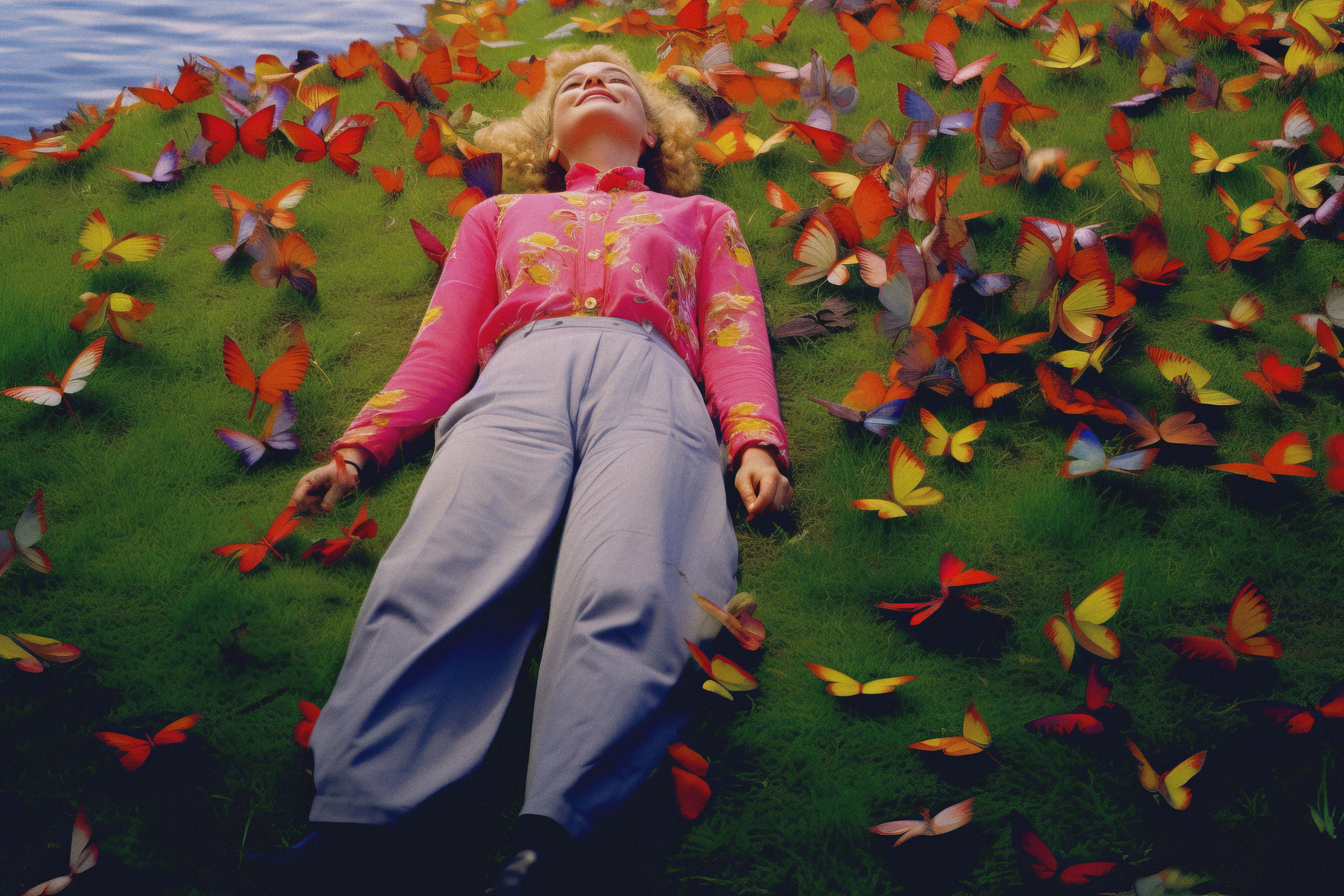 PLUTONIUM F.: Tell us more about the project. How did you come up with the name and your creative process for this project?
POSADA: My series, "String Theory," represents an evolution from a previous body of work titled "The Edge of Reality." In "The Edge of Reality," I represented various scenarios where subjects and environments were deconstructed into strands of texture and color, resembling invisible barcodes.
This process involved decoding our perceived reality and rearranging it in a different way. In "String Theory," this concept remains one of the core pillars. However, as I began collaborating with AI, I encountered situations where subjects are deconstructed and rearranged into diverse, and at times repetitive, patterns. This exploration aligns with the name of the series, inspired by the quantum mechanics principle of the same name. The principle suggests that multiple instances of reality may exist within an infinite matrix, where time is non-linear.
PLUTONIUM F.: What are your thoughts on the intersection of photography and AI technology?
POSADA: I think the intersection of photography and AI technology will enable us to explore uncharted territories. I believe AI will help us bring the collective unconscious of imagery and symbols to life and give them visual form. However, I also understand that it may present a potential threat when used unethically, so it is in our hands to use it wisely.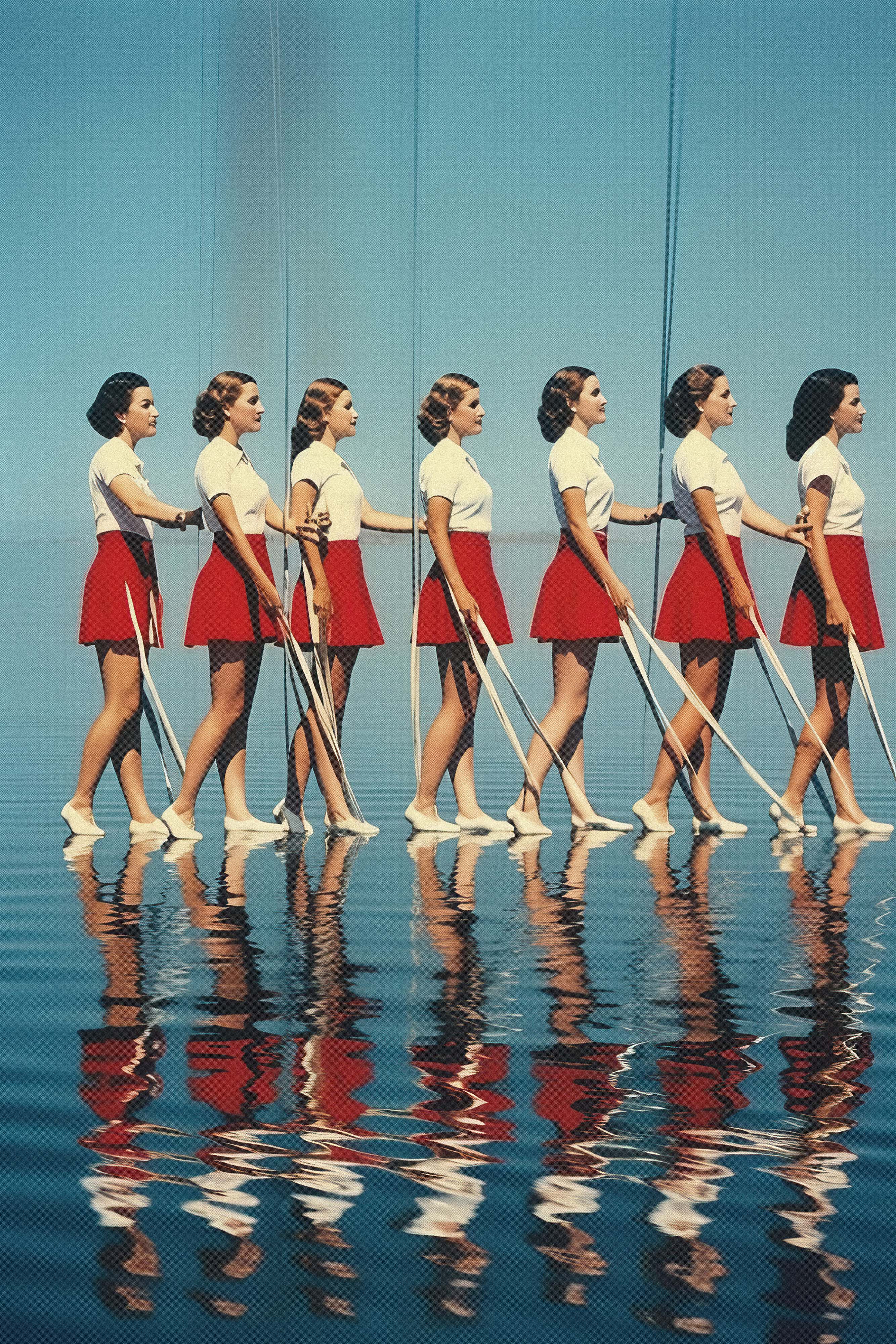 PLUTONIUM F.: Anything you would like to share with people skeptical about AI tools for creativity?
POSADA: I would invite anyone who is skeptical about AI tools to try them and spend some time with them before criticizing. It's important not to consider them as replacements for human creativity or ingenuity, but rather as tools that can enable us to explore deeper and farther.
PLUTONIUM F.: Thank you so much for taking the time to speak with us. What is the best way for people to follow you and learn more about you and your work?
POSADA: My most up-to-date channels are on Twitter, Instagram, and my website.